.
Physical contamination detection systems are designed to help you manage critical control points in the production and packaging process to ensure the highest quality and safety for your products.
View our infographic below, or download as a PDF to learn more!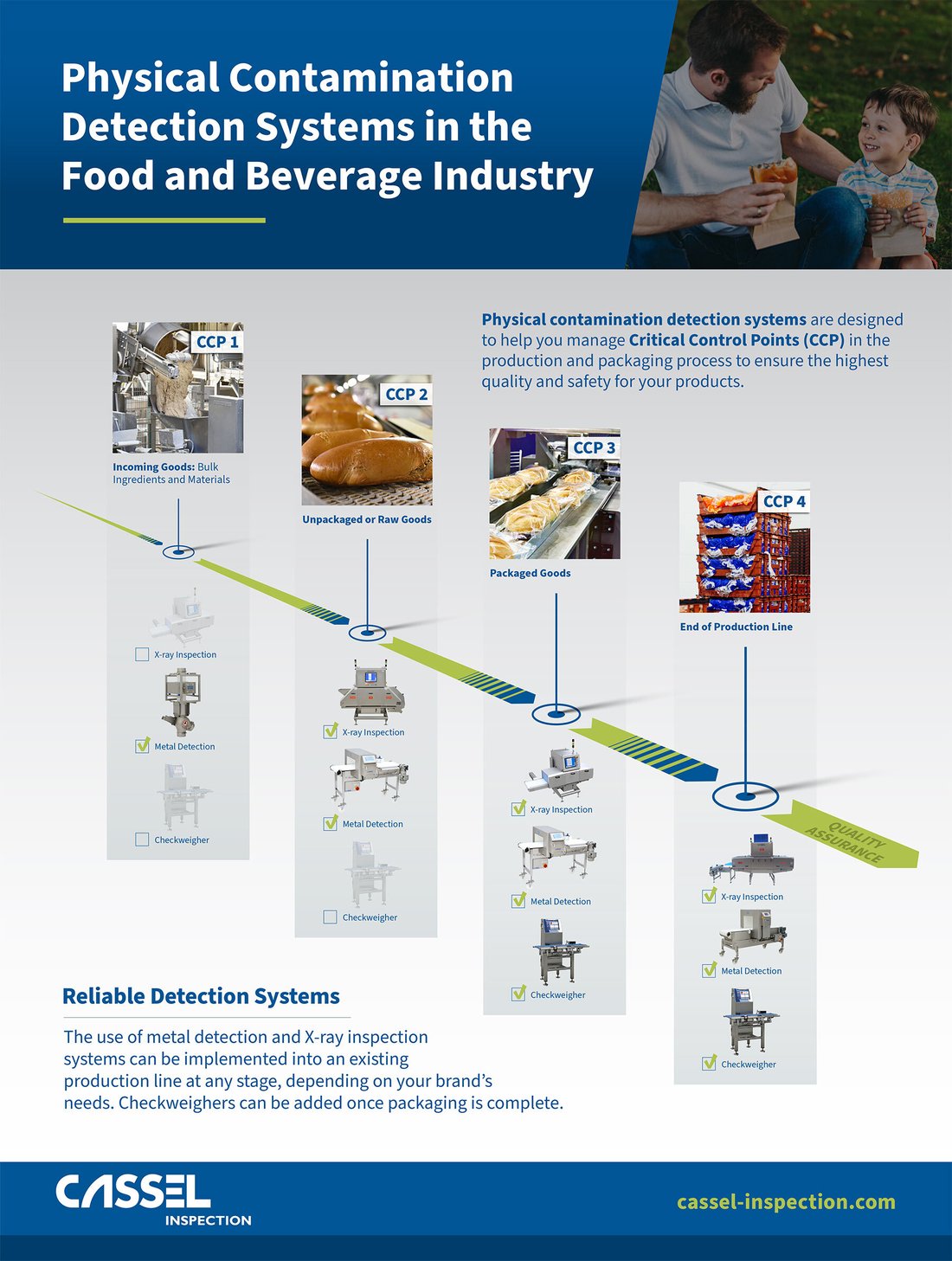 Physical Contamination Detection Systems in the Food and Beverage Industry
Start: Production Line Entry
Critical Point #1: Incoming Goods: Bulk Ingredients and Materials
To ensure the highest quality end-products, use metal detection and x-ray inspection machines on incoming goods.
Critical Point #2: Unpackaged or Raw Goods
Unpackaged or raw goods added to the production line can bring physical contaminants into your valuable products. Metal detection and x-ray inspection machines can help monitor and detect impurities and physical contaminants.
Critical Point #3: Packaged Goods
A review of packaged goods presents an opportunity to ensure product integrity and quality, checkweighers can confirm product weight and uniformity, while x-ray inspection and metal detection can detect any physician contaminants, removing affected products from the line with ease.
Critical Point #4: End of Production Line
A final inspection of all goods and packaged products can ensure overall product quality. Use metal detection and x-ray inspection to ensure your brand reputation remains positive.
End: Quality Assurance
---
The Importance of Reliable Detection Systems
The use of metal detection and x-ray inspection systems can be implemented into an existing production line at any stage, depending on your brand's needs. Checkweighers can be added once packaging is complete.
X-Ray Inspection

X-ray inspection machines are designed to offer reliable foreign object detection of bulk materials and unpackaged and packaged products. Detect high-density materials like metal, ceramic, stone, plastic or glass in:
Bulk flow products or unpackaged products, like almonds, spinach, carrots, or dried fruit
Packaging products, including cardboard or plastic boxes, pouch bags, jars or cans
Metal Detection

Reliably detect iron and non-ferrous metals such as aluminum or stainless steel and other metal impurities at any stage of the production process.

Use metal detectors on:
Incoming goods, like grains, sugar or flour
Unpackaged or raw goods, such as fruit or vegetables, dairy products, and spices
Packaged products such as ready meals, soups, sausages, and bakery products.
Checkweighers

Checkweighers prevent damage to your brand reputation by eliminating incorrect fill quantities, missing products in a container, or large cavities in products. checkweighers offer an efficient method of automatic food weighing and inspection, helping establish full quality control without halting the line.
CASSEL Inspection is proud to offer reliable physical contaminant inspection systems for every part of the production line. Learn more about the impact of food contamination on brands and how you can reliably protect your products, your customer and your reputation.