Access to safe food is essential for all individuals to maintain good health and thrive. According to the World Health Organization (WHO), unsafe foods cause more than 200 different diseases ranging from diarrhea to cancer, illness and even death.
World Food Safety Day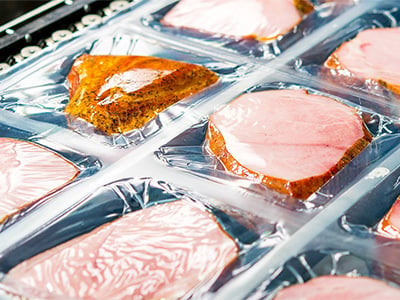 Aimed at drawing attention and inspiring action to prevent, detect and manage foodborne risks, World Food Safety Day (WFSD) was established by the WHO and the Food and Agriculture Organization of the United Nations (FAO).
Now in its eighth year, World Food Safety Day will be celebrated on June 7, 2023. The event brings awareness to the importance of managing hazards impacting food security, human health, economic prosperity, agricultural production, market access, tourism, and sustainable development. Additionally, the campaign stresses the need to transform food systems to deliver better health in a sustainable manner in order to prevent most foodborne diseases. There are many tools and downloadable resources available to support WFSD on the campaign's website.
Food safety is not just a concern for individuals and families but most certainly for the food and beverage companies manufacturing or preparing the products consumed. This blog will cover a few best practices to establish at the foundation of a food safety program to ensure compliance and efficiency.
What is Food Safety Compliance?
There isn't a definitive definition of food safety compliance because the rules and regulations differ depending on location and the type of food manufactured or service provided. Food safety compliance should include procedures and regulations to prevent food supply contamination. Simply stated, it's a system that has been established to identify possible food safety issues and a way to control them throughout the many steps in the food supply chain and the processes food products encounter in any facility.
Most often, a company's internal food safety program is overseen by governing bodies, such as in the United States by the Food and Drug Administration (FDA) and the U.S. Department of Agriculture (USDA). Therefore, food safety compliance is ultimately the act of complying with the standards that apply to any facility handling food and beverages for public consumption.
Hazard Analysis and Critical Control Points (HACCP) are common systematic approaches to hazard identification. The HACCP principles have become the basis of international food safety policies and regulations worldwide. The seven basic HACCP principles include:
1. Conduct a hazard analysis
2. Determine the critical control points (CCPs)
3. Define critical limits
4. Select monitoring procedures
5. Design corrective actions
6. Create verification procedures
7. Establish record-keeping and documentation processes
Learn more about global food safety standards and codes of practice in our blog: Food Safety - Standards and Compliance.
Steps You Can Take to Improve Food Safety and Protect Your Brand
A food safety program can only be successful with a solid plan. Whether you implement HACCP or an individualized food safety plan, there is an elevated risk of producing food products that may put consumers at risk without proper compliance and inspection. Below are steps you can take to promote food safety compliance to, most importantly, protect consumers as well as your brand.
1. Know the Food Safety Standards
An important element in understanding food safety compliance is to have familiarity with the various governing bodies in your region, state, or country.
Another consideration, as mentioned above, HACCP is at the core of numerous food safety standards around the world. These standards range from high-level guides to extremely detailed specifications. Note that requirements can vary by region, and a summary, but not a comprehensive list, of some of the most common standards, is detailed here.
Do you have a clear understanding of which of these standards applies to your production lines and how the vendor supplying your product inspection equipment can help you meet them? Commercial trainers and auditors are located around the world to ensure you meet the right standards in the most efficient way.
2. Control Package Quality
In 2018, the FDA announced its intention to enforce the Foreign Supplier Verification Program (FSVP) requirements for food contact substance importers within the Food Safety Modernization Act. Their goal is to focus on critical areas most commonly associated with food safety leading to costly recalls, including:
Materials containing poisonous substances
Materials containing uncleared food additives
Materials containing decomposed substances
Materials prepared under contaminated conditions
Materials in a container composed of toxic substances
Strong food safety and packaging quality programs require commitment and adequate resources to achieve your objectives. When it comes to packaging quality control, consider the following:
Airflow in areas of the facility where packaging is either manufactured or stored
Air quality to measure the contamination in and around your facility
Ensure surfaces where the production equipment warehouse, floors, walls, and ceilings are adequately cleaned and maintained
Process sampling – before, during, and after production
Personal health and sanitation
All packaging must act as a barrier to contaminants that would degrade product quality and safety.
3. Emphasize Compliance Tracing
Food traceability processes follow the movement of a food product and its ingredients through all steps in the supply chain. This process involves documenting and linking the production, processing, and distribution chain of food products and ingredients. When a foodborne illness outbreak or contamination event occurs, product tracing helps government agencies, producers, and sellers quickly find the source of the product and where contamination may have occurred. Efficient tracing results in faster removal of the affected product from the marketplace, reducing incidences of foodborne illnesses.
4. Consider Visual Inspection
Visual inspection is a common verification method in food safety compliance. It's low cost and can typically be performed by any trained employee. However, it's important to note that visual inspection does have its limitations.
5. Maintain Clean and Hygienic Food Scales
Many of the major food poisoning outbreaks have been caused by failure to properly maintain, clean, or operate equipment. To ensure safe food, equipment used for processing should be designed, installed, and maintained according to proper sanitary principles. Equipment must allow for proper cleaning and sanitizing, and surface materials must resist exposure to corrosive food products and cleaning chemicals.
A number of materials can be used in the construction of food equipment, including food scales. Depending upon the application, various metals and non-metals, such as plastics and rubber, are used. Regardless of the material used in an application, a proper maintenance schedule should include frequent examination for wear and deterioration, as well as the proper cleaning of equipment.
Hygienic food scales, and any equipment used in food processing or preparation, should hold up to stringent washing and decontamination procedures that may use high temperatures, high-pressure sprays, and antimicrobial detergents.
6. Ensure Proper Weight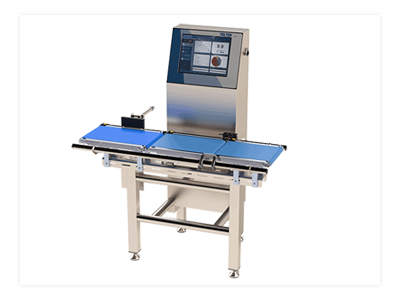 If you are in the food processing industry, you know the importance of a checkweigher and its vital role in quality control. Checkweighers weigh every package and help ensure that actual product weights are consistent with printed label weights.
Delivering consistent quality products contributes to financial stability and positive perception of a brand. Does your company ensure the weight of a packaged product being shipped out the door matches the weight on the label?
CASSEL Inspection provides checkweighers - an essential measuring instrument for production lines. These advanced conveyor-fed checkweighers allow for the easy and effective monitoring of throughput, product weights, and efficiency in packaging and filling departments, Teltek inline checkweighers, provided by CASSEL, are available individually or as a system solution with a METAL SHARK metal detector.
Learn why a checkweigher is a crucial component of your quality control program.
7. Incorporate Foreign Body Detection Equipment
Failing to put the proper quality control protocols in place or only employing manual inspection may result in missed foreign objects in the production process. This may result in costly product recalls, consumer health hazards, and irreparable damage not only production equipment but to a brand.
Foreign objects can contaminate goods at multiple touchpoints in the food supply chain, making inspection systems critical to identifying potential contaminants. A food safety compliance plan may rely on one of two key technologies to implement foreign object detection on the production line, including metal detection, and X-ray inspection. Choosing the right technology for an application will likely be determined by the characteristics of the food, potential contaminants, the minimum foreign object size, and the likelihood of detection.
CASSEL Inspection's Product Selection Tool helps take the guesswork out of a product search.
Metal detection is one of the most common technology solutions deployed for foreign object detection of ferrous, non-ferrous, and stainless-steel foreign objects. Additionally, X-ray inspection systems are designed to detect metallic and non-metallic foreign objects, which may include glass, stone, and some plastics.
The Benefits of Metal Detection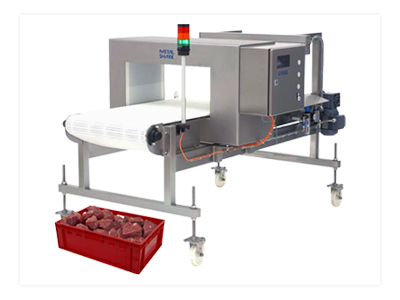 Advancements in metal detection technology overcome challenges previously experienced when testing food for foreign metal objects. Advancements in software have enabled the automated set-up of detection parameters, which greatly saves time. Other factors contribute to the benefits of metal detection, including:
Quality assurance checks or visual inspections won't pick up fragments of debris, meaning a metal detector is essential for ensuring there is no risk of metal contaminants in products individuals may consume.
Linked to this, high levels of micro metal contamination in food processing operations are an indication there may be an issue with production equipment. This can help identify preventative maintenance needs for a device before it breaks down during production.
Using metal detection equipment requires little maintenance and can reduce the need for time-consuming manual quality checks.
It doesn't matter if a product's contamination consists of iron, steel, stainless steel, or non-ferrous metals such as aluminum, copper, and brass, CASSEL Inspection's metal detectors for conveyors will detect all metallic foreign bodies using 4-quadrant technology. The detector sends signal to the process control system and eject the contaminated products automatically with fast-switching separation systems.
Another great factor is that CASSEL devices for the food industry comply with standards such as IFS, BRC, and FSMA.
Learn more by reviewing CASSEL Inspection Metal Detection System FAQs.
The Benefits of X-Ray Inspection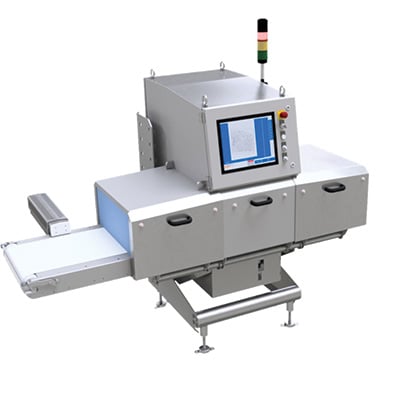 X-ray inspection of food products has become highly utilized worldwide, primarily due to the high cost associated with food recalls caused by foreign body contamination. The FDA and other evaluating organizations have concluded scanning food with X-ray scanners does not pose a health risk to consumers. Other benefits of X-Ray inspection include:
X-ray inspection can detect more than just metal. This distinction is important because food suppliers and end-users typically identify glass, ceramics, and dense plastics as frequent foreign substance culprits.
X-ray inspection can effectively inspect for metal contaminants in packaged food where the package contains metalized films or foils which would trigger a false reject if inspected in a conventional metal detector.
X-ray inspection machines perform impressive quality control functions that surpass foreign substance detection. For example, X-ray inspection systems can be utilized to verify accurate fill levels, sufficient product roundness, sufficient product count, and in some products, ripeness.
CASSEL Inspection X-ray inspection machines offer:
Reliable Detection of Contaminants: Inspection technology ensures durable, reliable detection that provides protection for customers, products, and ultimately, brands. Pre-set options allow for fast and efficient product changes for consistent safety and quality with CASSEL XRAY SHARK inspection systems.
Intuitive and User-Friendly Interface: CASSEL Inspection's XIA software and touchscreen interface provide a smooth changeover and seamless inspection of every product. The intuitive installation and user-friendly system will help improve inspection quality and reduce false rejects. Comprehensive documentation is also easy with CASSEL Inspection XRAY SHARK systems, which provide an automatically generated electronic audit trail for complete, reliable records of compliance.
Learn more by reviewing CASSEL Inspection X-Ray Machines FAQs.
Metal detectors and X-ray inspection systems are commonly used to detect physical contaminants. However, because they use vastly different technologies to identify objects, selection between the two types of equipment depends on the type of hazard.
Compare the capabilities of metal detectors and X-ray inspection systems here.
Food safety compliance should be a top priority for food and beverage companies not only to protect the safety of consumers but also because implementing a culture of food safety makes good business sense to avoid severe consequences and damage to a brand's reputation. While every company is unique and must create a tailored approach to its individual processes, the best practices discussed above are key to establishing the foundation of a food safety program.
Are you ready to learn more about the resources and equipment that can best support food safety compliance? Contact the experts at CASSEL Inspection or request a quote today.