Compliance to Food Safety Policies Begins with Foreign Object Detection
Consumer safety is the cornerstone of every strong brand and leading business. For food products, physical contaminants, in the form of foreign objects, must be detected and removed in production prior to shipment.
To meet this goal corporate policies are created based on government or industry standards and regulations. These policies rely on selecting the optimum detection technology to eliminate the most likely hazards in a cost-effective manner. They also assure on-going compliance via auditing and data archiving. Finally, in some cases retailers serving the consumer have developed their own detailed codes of practice that must be met by producers as a condition of business.
To produce and sell food products today it is critical to fully understand how to specify, select, and use product inspection systems to fully support your quality policy and thus your customers. This blog provides a high-level overview of food safety compliance. Future blogs will explore many of these complex topics in more detail.
The principles of HACCP – the beginning of safe food
Hazard Analysis and Critical Control Points (HACCP) is a systematic approach to hazard identification, risk assessment and control. It originated in the 1960s, when the US National Aeronautics and Space Administration (NASA), the Pillsbury Company, and the U.S. Army Laboratories collaborated to ensure safe food for upcoming space expeditions. In the early 1970s, a safety incident with baby food manufactured at Pillsbury resulted in the company implementing a secure product safety system to minimize the likelihood of another product recall. Pillsbury then collaborated with U.S. Food and Drug Administration to create and present the first training courses designed to educate producers on this new quality framework. Since then, the HACCP principles have become the basis of international food safety policies and regulations worldwide.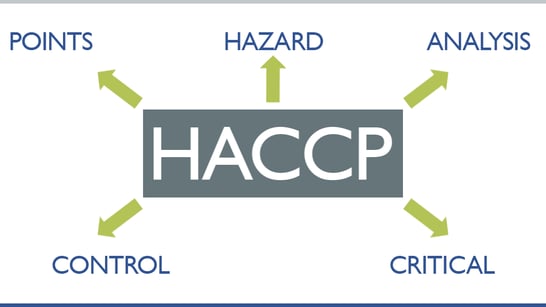 The seven basic HACCP principles are simple:
Conduct a hazard analysis
Determine the critical control points (CCPs)
Define critical limits
Select monitoring procedures
Design corrective actions
Create verification procedures
Establish record-keeping and documentation processes
To explain by example let's look at how to apply these principles at a hypothetical packaged cereal manufacturer.
Sample HACCP Analysis
| | | |
| --- | --- | --- |
| | HACCP Step | Process and Possible Conclusions |
| | Conduct a hazard analysis | Look at ingredients, production process and packaging approach. Metal objects are most common and cannot be 100% eliminated. |
| | Determine the critical control points (CCPs) | Metal contamination is possible at many steps in the process. To reduce scrap/rework, detect it in cereal production and at the end of the line after packaging. |
| | Define critical limits | Based on technology and risk, metal volume >= to a 2 mm sphere must be controlled. Tighter limits depend on the product type, detection system and cost, but they could result in higher false reject. Three types of metal are commonly tested: Ferrous metals (iron), Non-ferrous metals (brass, copper, aluminium, and others) and Stainless Steel (Fe, Nfe and SS). |
| | Select monitoring procedures | Install a gravity metal detector immediately after forming/baking bulk cereal. Due to packaging (some metallized film used) X-ray inspection will be installed at the end of the line to assure no contaminants are inside a bag/box. |
| | Define corrective actions | Destroy product with random contaminants. If too many consecutive products are rejected, shut down to determine root cause. Also quarantine recent production to reinspect/scrap when possible. |
| | Create verification procedures | Set-up a process for on-line audits using Fe, Nfe, and SS samples defined as your limits. Run audits at the start of production and once every hour. If an audit fails reinspect or scrap production since the last successful audit. |
| | Create verification procedures | Set up a system to capture CCP data, and if available utilize built-in HACCP reports. If possible, use built-in software to time, execute and record audits too. Save the data periodically to a server for future analysis if needed. |
As you can see, the step-by-step HACCP framework is not difficult to understand and implement. Of course, each product and production process is different and there may be additional details to consider when implementing your food safety programs.
Overview of global food safety standards/codes of practice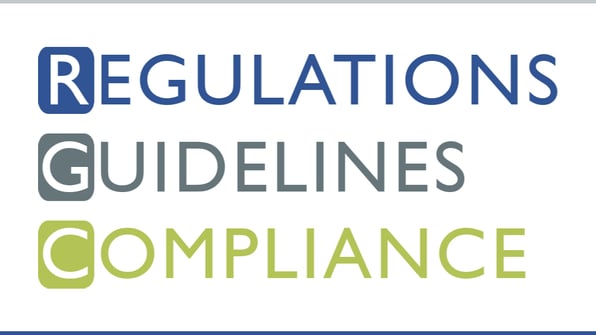 HACCP is at the core of numerous other food safety standards around the world, complementing and supporting them. These standards range from high-level guides to extremely detailed specifications which are created by standards bodies, government, industry, food producers and retailers. Requirements can vary by region, food product/package and producer. A summary, but not exhaustive list, of some of the most common standards follows below with links to more detailed information.
It is critical to understand which of these standards applies to your production lines and how the vendor supplying your metal detectors or X-ray system can help you meet them. Ideally this is done before purchase, so you are not forced to retrofit or replace non-compliant systems.
Note there are many commercial trainers and auditors around the world that can help ensure you are meeting the right standards in the best way possible. If you need this level of support, CASSEL Inspection can assist you.
Some of the More Common Standards Relating to Food Safety
| | | | |
| --- | --- | --- | --- |
| Type | Name | Description | Link for More Information |
| | HACCP | Hazard Analysis and Critical Control Points (HACCP) is a systematic, preventive approach to food safety based on hazards in production processes that can cause the finished product to be unsafe. | https://www.fda.gov/food/hazard-analysis-critical-control-point-haccp/haccp-principles-application-guidelines |
| | GMP | Good Manufacturing Processes (GMPs) are the basic operational and environmental conditions required to produce safe food. They ensure that ingredients, products and packaging materials are handled safely and that food products are processed in a suitable environment. | https://www.fda.gov/food/guidance-regulation-food-and-dietary-supplements/current-good-manufacturing-practices-cgmps-food-and-dietary-supplements |
| | ISO | ISO 22000 is a standard developed by the International Organization for Standardization focused on food safety. It is a general derivative of ISO 9000. | https://www.iso.org/iso-22000-food-safety-management.html |
| | IFS | The International Food Standard (IFS) is a unified control standard for quality and safety systems and applies to all levels of production in which food is processed. It requires a company's food safety management system to be a fully implemented, systematic and comprehensive HACCP based plan, following the Codex Alimentarius principles and any legal requirements of the production and destination countries which may go beyond these principles. | https://www.ifs-certification.com/index.php/en/standards/4128-ifs-food-standard-en |
| Specific (Retailers) | BRC | British Retail Consortium (BRC) is an international Food Safety Management Systems standard. It contains requirements for food processors to follow to build an effective food safety management system. | https://www.brcgs.com/media/63857/brctag-guidance-document.pdf |
| Very Specific (One Retail Example) | M&S COP | Marks and Spencer Code of Practice (COP) ensures appropriate risk assessments, preventative measures and controls are in place to prevent metal contaminants entering Marks & Spencer products. Suitable detection systems, such as metal detector/x-ray systems must be in place for all Marks & Spencer food products. | Code of Practice and Guidelines for Foreign Body Prevention, October 2015 Version 8 (confidential, only available to suppliers) |
Comparing the capabilities of metal detectors and X-ray inspection systems
Metal detectors and X-ray inspection systems are the most common CCPs for physical contaminants. They utilize vastly different technologies to find foreign objects though, so selection of each depends on the type of hazards you have, the control limits you set and the place in the line the CCP is installed. X-ray inspection in general has superior detection capability compared to metal detectors, but is also more costly, has a shorter lifespan and cannot be used in extremely harsh factory conditions. If in doubt, work with your product inspection vendor to run tests utilizing both technologies to compare performance. Review overall lifecycle cost too, then you can make an informed decision. Note that some high quality retailers/customers may demand that X-ray inspection be used for the ultimate brand protection.
Detection comparison for metal detectors and x-ray systems
| | | | |
| --- | --- | --- | --- |
| Contaminant Type | Metal Detector (MD) | X-Ray Systems (XR) | Comments |
| Ferrous Metal | | | Ferrous, Non-Ferrous, Stainless Steel detection varies with MD (i.e. SS most difficult). Product effect for the MD (i.e. water, salt, minerals) and XR (i.e. density, texture) will impact performance too. |
| Non-Ferrous Metal | | | |
| Stainless Steel | | | |
| Aluminium | | | Low density foil impossible for XR. Density similar to glass. Conductivity easier for MD. |
| Wires | | | MD may miss detection due to orientation. XR depends on length/width. |
| Glass | | | Depends on the glass composition. Glass size typically > 2.5 X metal. |
| Rock - Mineral Stone | | | Depends on type and density |
| Calcified Bone | | | XR only. |
| Plastic | | | Depends on type and size |
| Wood, pits, shells, Insects etc. | | | Not conductive for MD, not dense enough for XR |
Best practices when auditing and archiving data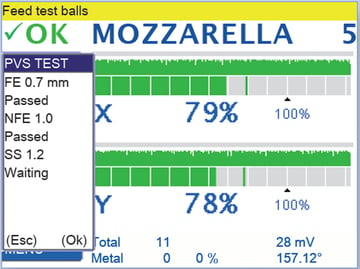 Even the most precise safety systems never function correctly all of the time. They may be adjusted incorrectly, the conditions for inspection may change or the hardware may be degrading but not yet generating an alarm. To assure long term operation, CCPs must be regularly audited. This requires periodic testing throughout the day, using all of your standard contaminants, to ensure 100% detection.
CASSEL Inspection employs a Performance Validation System (PVS) test in its metal detection and X-ray inspection software to fully support correct auditing. This software can be set to alert an operator when an audit is needed, display the audit results, and automatically save summary data as an audit trail. It will also alarm when an audit fails requiring technical intervention.
| | |
| --- | --- |
| Summary IFS/HACCP for Shark2 Metal Detector | Sample of Metal Detection Data |
| Sample of Metal Detector Event Data for Further Analysis | |
But what happens if a CCP is changed prior to a suspected contamination and subsequent investigation? How can you be assured the data is always available?
The best way to safeguard your inspection data is to regularly archive for easy access. The CASSEL Inspection Sharknet software does exactly this, and more. It can generate statistical reports for any period, on any line and store data in an SQL database so you can query on your own.
One critical point: having a metal detector or X-ray inspection system on your line is not enough. Make sure whatever CCPs you select can fully support these critical elements of HACCP.
Best practices when auditing and archiving data
As you can see, ensuring food safety demands more than the installation of a simple metal detector. It requires thought, diligence, documentation, analysis and continual improvement. And remember that foreign object detection technology is constantly evolving so upgrade and replacement may be required periodically. The good news is your product inspection supplier is ready and able to help you in this regard assuring whatever standards you must meet can be easily achieved or exceeded at a reasonable cost.